I have many things at home I'm not going to use and maybe they are interesting to you. They'd love to find a new home! If you want anything listed in this page you just have to send me an
email
and we'll talk about it. Stay tuned to this marketplace because it will be updated regularly.
This is all the stuff I've got for sale right now (click to the photos to enlarge):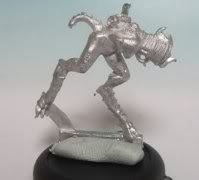 6€
6 Aliens
From Urban Mammoth. They were sent to me as a commission job for the company which finally didn't turn out. Never released for sale! I've got 6 of them.
More views.